Large digital newspaper and magazine library. Full-page replicas of current print editions, including editorial content, graphics and advertising. Can have up to ninety days worth of back issues.
Use at a library or enter your library card & password / PIN
Please note: The current PressDisplay format is going to change. At the end of August PressDisplay will become PressReader. Currently when you access PressDisplay you can choose to go to PressReader or PressDisplay. Access this PressReader FAQ to find out more.

Key features
PressDisplay gives you same-day access to more than 2,000 newspapers and over 500 magazines from around the world. Enjoy full-page replicas with their traditional format and layout, including complete editorial content, graphics and advertising.
Photos, crosswords, cartoons, advertising, job vacancies and death notices appear just as they do in print versions.
Individual pages and single stories can be printed or emailed.
Text-only option available.
Up to 90 days of back issues depending on the newspaper and magazine.
Newspapers and magazines are available in over 60 languages and can be translated into 8.
More information
Most New Zealand newspapers are available — including The Press, The Dominion Post and The New Zealand Herald, as well as many smaller, regional publications. There are also a variety of New Zealand magazines. International coverage includes over 200 Australian papers and magazines and  major newspapers from most parts of the world.
Most titles available through PressDisplay have records that can be found through the library catalogue.
PressReader mobile app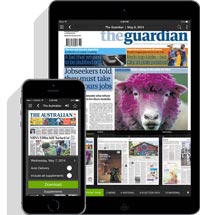 Get 10 newspapers or magazines a day from around New Zealand and the world on your phone or tablet.
Download the PressReader app for Apple or Android devices and read your favourite Press Display newspapers and magazines in a format designed for your phone or tablet.
How the PressReader app works
If you're in range of Christchurch City Libraries' free wi-fi network, you can download up to ten newspapers through the PressReader app daily, free of charge, and then read the newspapers offline wherever and whenever you choose.
If you're not within one of our libraries, you can still use the PressReader app to download newspapers but you would need to pay PressDisplay for the subscription.
To download newspapers for free
Get the app
Download the PressReader app from the Apple app store or Google Play store.
The App comes with seven free newspaper downloads after which you would normally be expected to pay, but with the new library PressReader service you can download ten free newspapers daily while inside a library.
Explore PressReader with your seven free downloads.
Download your ten free daily newspapers
Visit your local library.
Connect to the free wi-fi.
Open the PressReader app.
Download up to ten newspapers or magazines daily to read offline, anywhere you like.
Accessing PressDisplay from home
Free downloads with the PressReader app only work within the Christchurch City Libraries' free wi-fi network but you can read them anywhere once you have downloaded.
You can also access PressDisplay anytime, anywhere using your web browser on your phone, tablet, computer or laptop.