Academic World Book is a reference tool aimed at university level information requirements.
Use at a library or enter your library card & password / PIN.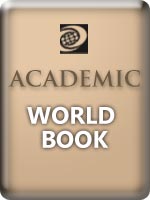 Key features
Academic World Book consists of thousands of articles that can be searched using the A-Z, or by these subject headings:
Arts;
Business, Industry and Technology;
Geography;
History;
Mythology, Philosophy and Religion;
Science and Mathematics;
Society.
It also includes:
Collections: an eBook collection of thousands of fiction and non-fiction titles with selections in nine languages, pathfinders, primary documents, biographies and World newspapers;
Research tools: citation builders, research guides and a "My Research" folder that you can set up and save your work to;
World Resources: Interactive maps, atlas and place comparisons.
More information
A large search box is always available in the upper right corner of Academic World Book. Users can enter search terms into the single search box to search across all of World Book's resources. If you wish to see your search term highlighted in the article, click on 'Highlight search term in text' in the Tools box near the top of the page. This will display all instances of your search term highlighted in the text.