Brings together information found in more than 400 journals on all aspects of the communications field, including advertising, public relations, linguistics, and literature, meet the needs of researchers.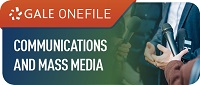 Key features
Communications and Mass Media provides access to academic journals and magazines focusing on all aspects of the communications field. Key subjects covered in the eResource include advertising and public relations, literature and writing, linguistics, and more. You can search in a variety of ways including:
Basic search by keyword, subject or publication;
Advanced search with numerous options to limit or expand your search;
A subject guide search - this is best for searching a single topic and offers the ability to narrow that topic by subdivisions. It's also helpful for discerning between words with different meanings (e.g.Mars – planet or chocolate company?);
Publication search;
Topic Finder — see topics that commonly occur in relation to your search term to expand your thinking and find hidden connections;
Popular articles and popular trending topics is also a useful way to see what is of current interest in the World.
Use at a library or enter your library card & password/PIN
More information
Information is sourced from over 300 journals, magazines, books, news items and multimedia. Search by keyword, publication and document type or alternatively browse subjects and publications. Titles include:
Journal of Broadcasting & Electronic Media;
International Journal of English Studies;
Marketing Science;
Mediaweek.
Gale Cengage YouTube video guides
Integration with Google and Microsoft
Gale Cengage has integrated this eResource with Google and Microsoft. At the top of each page there is an option to sign in. If you have an account for Google you can save Gale content as Google docs into Google Drive or Google Classroom accounts. If you have a Microsoft account you can store, sync and share downloaded Gale content to your OneDrive account and easily transfer downloaded OneDrive content for use in other Microsoft tools like OneNote and Classroom.