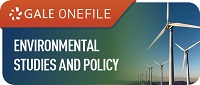 For the study of sustainability and the environment. Topics include global warming, food safety, access to health care, and the impact of economic development on international relations.
Key features
Gale OneFile: Environmental Studies and Policy is a digital resource that answers inquiries about environmental concerns with coverage of more than 5.4 million articles from more than 300 journals and book reference content from Delmar, including Soil, Science, and Management; Introduction to Agronomy; Food, Crops, & Environment; Fundamental Soil Science; and more.
Exclusive features, including Topic Finder, InterLink, and a mobile-optimized interface, support and enhance the search experience.
Use at a library or enter your library card & password/PIN
More information
This eResource will be of use to environmentalists, policy makers, educators, students, geologists and engineers with answers to environmentally related inquires. It also allows access to perspectives from the scientific community, governmental policy makers, and corporate interests on environmental issues. Journal titles include:
Pacific Ecologist;
Environmental Hazards;
Journal of Environmental Education;
Nature.
Gale Cengage YourTube Video Guides
Integration with Google and Microsoft
Gale Cengage has integrated this eResource with Google and Microsoft. At the top of each page there is an option to sign in. If you have an account for Google you can save Gale content as Google docs into Google Drive or Google Classroom accounts. If you have a Microsoft account you can store, sync and share downloaded Gale content to your OneDrive account and easily transfer downloaded OneDrive content for use in other Microsoft tools like OneNote and Classroom.