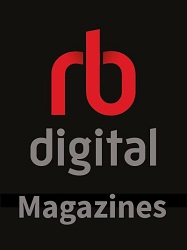 Hundreds of eMagazines including many popular New Zealand titles on wide range of subjects.
Key features
RBdigital Magazines covers all areas of human interest including technology, art, style, politics, travel and more. We have everything from the Economist, British Vogue and New Scientist to OK!, Hello and The NZ Listener. The eMagazines are full digital versions of the current print editions, including editorial content, graphics and advertising.
Magazine titles
Alphabetical list of titles [228KB PDF]
Alphabetical list of titles by country of origin [227KB PDF]
Recently added titles [100KB PDF]
Titles sorted by genre [220KB PDF]
Please note: Some magazines cease to be available through RBdigital due to publishers decisions. Please check our catalogue record to see if back issues are available.
Use at a library or enter your library card and password / PIN
Previously known as Zinio for Libraries.
Getting started
To get set up you will need:
Your library card and password / PIN (if using RBdigital Magazines outside one of our libraries).
An account created using your email address & password
First time user
Create your account.
Visit our RBdigital site and click on the Register link (top right).

Fill in your details and click create account.

You are now ready to borrow library titles for free. To do this follow the next section.
Return user
Click "Sign in" and log in to your account
Browse and find a title that interests you and click on then on Checkout button.

You will be given the option to be emailed the next time an issue of your eMagazine becomes available. You can amend these emails under preferences.

To view a list of all the eMagazines you have checked out click the menu button to the top right of the page, and select checked out.

How to download and read your magazine
You can download an eMagazine and read it straight away on any mobile device or computer.
For a richer experience, and reading offline, you can download a RBdigital app for your mobile
RBdigital app
You need to have an account to login to the app
Once checked out your magazines will be available to read online or download to your app.
Help
If you are having problems please contact us, or check out our FAQ for more information about RBdigital works.