Access to current bibliographic information and current pricing structures for popular serials from publishers worldwide.
Use at a library or enter your library card & password / PIN
Use the Serials Directory now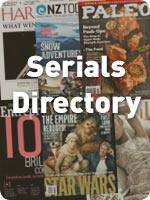 Key features
The Serials Directory is an eResource for anyone needing information on published serials with data from more than 100,000 publishers and covering a quarter of a million titles. It contains:
Contact details of the publisher such as email and Internet addresses;
Language and publication frequency;
ISSN (International Standard Serial Number), Library of Congress and Dewey Decimal Classifications.
More information
With EBSCO you can create your own account using your email address and your own password. With your own account you can:
Save preferences;
Organize your research with folders;
Share your folders with others and view theirs;
Save and retrieve your search history;
Create email alerts and/or RSS feeds.