Hear the music from America's past and present.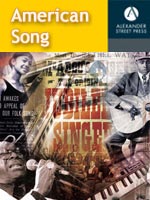 Key features
American Song allows you to listen to the music of the American experience. It includes every musical genre from folk and blues to country, gospel, and rock with over 110,00 tracks. You can:
Access the largest online collection of streamed American music available anywhere;
Create and save your own playlists;
Search liner notes;
Browse by historical event, genre, instrument, person and album;
Cross search with other resources from Music Online: Listening Plus
Use at a library or enter your library card & password/PIN
More information
This collection includes music that relates to almost every walk of American life, every ethnic group, and every time period. You'll find songs by and about American Indians, miners, immigrants, slaves, pioneers, and cowboys. There are the songs of civil rights, political campaigns, prohibition, the Revolutionary War, the Civil War, and anti-war protests. Examples of songs you can stream include: New Massachusetts Liberty Song (1775); Influenza Blues (1919); The Titanic Disaster (1912); If You Miss Me From the Back of the Bus (Civil Rights song).