Do you have photos that reflect life in Halswell? Would you be willing to lend them to the library for Kete Christchurch, our digital community archive?
We'd love to have them to share with the community. All contributions will be collected, digitised and returned.
Have a look at the Halswell images in Kete Christchurch.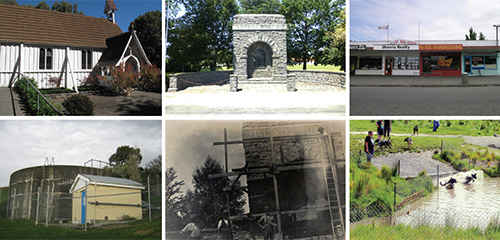 Take your photos to Halswell Library 381 Halswell Road (corner Sparks, Halswell Roads)
or contact us:
Christchurch City Libraries
Phone 941-7923
Email library@ccc.govt.nz
Find out more about Te Hāpua: Halswell Centre. This new library and community facility incorporating customer service facilities and multipurpose spaces is being built on the existing Halswell Aquatic Centre site and adjacent land is scheduled to open in November 2015.
Feel free to promote this to your community:
Download an A3 poster [517KB PDF]
Download a leaflet [534KB PDF]
Download the rights form - please include this when submitting your photos. [136KB PDF]
How to submit your photographs
You must complete a form with your full name, phone number, and postal address. If applicable please include your library card number and email address.
Ensure that you read the 'terms and conditions' below and then sign and date your form. Each photo must be accompanied by a signed form.
Place your form and photograph into an envelope available from your local library. Ensure that you write your name and contact details (phone or email) on the front of the envelope and hand your completed form to a librarian.
Your entry will be delivered to the Digital Content & Serials Team where your photograph will be scanned. You will be contacted when your photo is ready to collect from the library where you submitted this form. Please indicate which library this is in the 'Library location' space on the form.
Copies of all photograph entries may be displayed in libraries and uploaded to Kete Christchurch ketechristchurch.peoplesnetworknz.info
Terms and conditions
Each image must be accompanied by a signed form. Contact details are only required once.
Copies of the photograph entries may also be displayed in the library and on the Christchurch City Libraries' websites.
Photos will be transferred to Kete Christchurch for display. By submitting a photo you give permission for photos to be published under the license Creative Commons Attribution-Noncommercial-No Derivative Works 3.0 New Zealand's org/licenses/by-nc-nd/3.0/nz/.
Entries that do not have full contact details on the form will not be considered.
Your name and images may be used for reasonable publicity purposes by Christchurch City Libraries.
Christchurch City Libraries will not be responsible for any breaches of copyright or privacy that may occur.
Christchurch City Libraries reserve the right not to display all photographs.
When photographs have been scanned they will be returned to the library you submitted at, a librarian will contact you to arrange collection. Thank you for your assistance with building this community archive.