Kia ora. In February we celebrate all things New Zealand.
Te Tiriti o Waitangi
Friday 6 February is Waitangi Day, and 2015 marks 175 years since the Treaty of Waitangi was signed. Find out more:
All our libraries will be closed on Waitangi Day.

January 2015. Fendalton Library. Flickr: 2015-01-24-IMG_20100101_143546-(2)
The great outdoors
Cricket
The ICC Cricket World Cup starts in Christchurch on Saturday 14 February.
Multisport
Coast to Coast is on Friday 13 February.
Gardening
February is a big month for local gardeners.
Christchurch and Canterbury earthquakes
22 February 2015 marks four years since our devastating earthquake. We have information on the earthquakes for adults and kids.


Clock tower on Madras Street. Flickr CCL-2012-02-22-IMG_9665
Back to school
Time to go back to school. Try our tips for five–year–olds starting school. For the younger set, preschool Babytimes and Storytimes are back from Monday 9 February.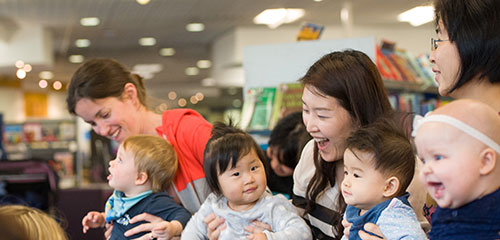 Picturing Aotearoa
Our images collection and Flickr page are full of images of New Zealand and Christchurch.
Picturing Canterbury explores some of our photographic gems.
What happened in February
Our timeline of historic Christchurch events.
Get the latest news from Christchurch City Libraries
About our website themes
Each month we connect you with library resources and local events. We also dig out some of the gems in our collection that reflect the vibrant and diverse aspects of life in Christchurch.
Next month's theme
In March our theme will be Family – Whānau.