The University of Canterbury has discovered a copy of William Smith's 200 year old geological map of Britain.
The University of Canterbury's copy has been identified by experts at the Geological Society of London as one of the early hand painted incarnations produced at the London office of publisher John Cary.

We now know from the Geological Society's records that this map numbered 'b4' was signed by Smith on the morning of Tuesday 23rd January 1816. Along with his highly skilled colourists John Cary produced, on behalf of Smith, approximately 350 copies of the map with as many as 120 to 150 surviving today, according to Tom Sharpe of the Geological Society ...

Sir Joseph Banks (who Banks Peninsula is named after), to whom the map is dedicated to, was Smith's major sponsor in the research and production of his work providing funds for Smith to complete the map.
Read more: Library unearths the first geological map. Damian Cairns, Special Collections Librarian, who features in the article is a former alumni of Christchurch City Libraries, so feeling very proud of him!
If you've read the splendid The Map That Changed the World: The Tale of William Smith and the Birth of A Science by Simon Winchester you will know how interesting this is. If you haven't read it, get a copy - we have paper copies - one in large print, and an eBook.
The Map That Changed the World

NASA's Earth Observatory has a good image of the map and an introduction to the work of geologist William Smith.
For us in Christchurch, we probably know more than most about the layers beneath us. We have all garnered geological knowledge post-earthquakes.
If you are a bit of a map lover, you might also like to delve into our collection which includes this 1840 Akaroa beauty and a 1983 Christchurch cycle map.
And these geological maps:
Geological map of the Provinces of Canterbury and Westland, [ca. 1866]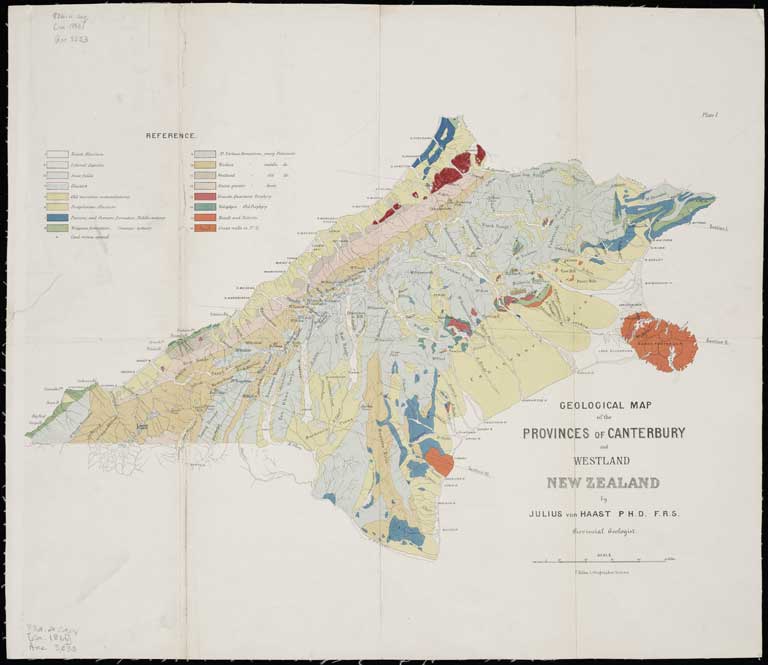 Geological map of the Provinces of Canterbury and Westland, New Zealand by Julius von Haast, P.H.D., F.R.S., principal geologist. [ca. 1866] ATLMAPS ATL-Acc-3233 MapColl 834.4caq/[ca.1866]/Acc. 3233
Geological sections of Lyttelton and Christchurch railway tunnel [ca. 1875]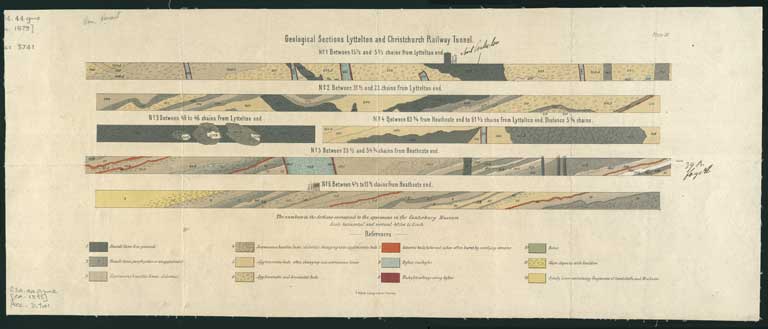 Geological sections of Lyttelton and Christchurch railway tunnel [by Julius von Haast]. [ca. 1875]
Scale etc: Scale 1:480. ATLMAPS ATL-Acc-3741 MapColl 834.44gme/[ca. 1875]/Acc. 3741