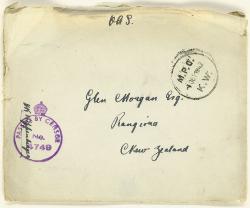 They were signed off Howard, or more informally Kip, and most were written to his friend Glen Morgan in Rangiora. Nothing particularly remarkable in that, at first sight, but Kip was in fact Howard Kippenberger, who historian Glyn Harper has described as "New Zealand's most popular military commander, and perhaps its most talented." His letters and cards, which have recently been added to our digitised collection, span the period from 22 February 1940 to 18 February 1945 and offer a fascinating insight in the life of New Zealand soldiers in World War II.
We meet Kippenberger in Egypt, where he is in charge of the 20th Canterbury/Otago Battalion, and where he experiences "the most bitter disappointment of my life" as a result of the lack of involvement of his Battalion in the routing of the Italians from Egypt.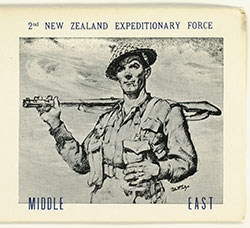 We then follow him to Syria, where he is commanding all the troops in the Aleppo area, including some French, Syrian and British soldiers, and where he is dealing with the local Governor and the French delegate.
Lastly we move to the UK, where we find out that Kippenberger "will be starting to learn to walk again soon", having lost both feet in an anti-personnel mine accident near Monte Cassino.
Kippenberger's personal experiences are interesting per se, but the letters offer much more.
My romantic streak was sparked by descriptions of the living quarters:
You will imagine us on the Libyan frontier, sweltering in the desert, close to action. Well we're not, at the moment. We're doing important enough work and having an interesting time, but living in near luxury. My H.Q. are in the Kasr el Nil Barracks. I occupy part of the old Khedivial palace, sharing two rooms with a Scots Guards Major, having meals on a mahogany table on the balcony above the Nile, a charming scene with moonlight on the river, candles & palms.
Similarly, I was intrigued by Kippenberger's depiction of a captured Italian general:
He has been moaning like a bull at his perfectly good treatment ...has been hunger striking & generally acting like a goat.
And who couldn't be touched by the following vignettes of the soldiers' lives in his letter of 7 December 1940?
Censoring letters the other day I came on this. One boy writing to his girl friend described how he'd saved his water allowance for days until he had enough for a bath. Pete Smart managed to get tight last night & for reasons clearer to him then than later decided to ... stay the night [at a friends' camp] & arrived back this morning ...wearing a dishevelled & shame-faced look.
And, of course, some things never change, as this comment about the frustration of not taking part in the battle against the Italians in December 1940, demonstrates:
Only consolation is that the Aussies aren't in it either.
View all of Kippenberger's letters and cards, including his trenchant overview of Political systems, 1940s style.