Look at Christchurch with new eyes in October with Fun Palaces, SCAPE, and BECA Heritage Week.
Fun Palaces
In the weekend of Saturday 3 and Sunday 4 October we will be the first place in the world to get our Fun Palaces on! Take part in free, pop-up arts, science and culture activities for people of all ages and abilities. Central Library Peterborough is our Fun Palaces HQ.
Christchurch Photo Hunt 2015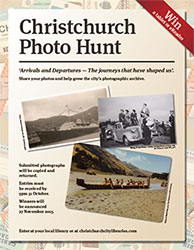 The Christchurch Photo Hunt is back! Help build a photographic archive and you could win a tablet or eReader.
Have a look at the 2014 winners and highly commended entries:
Browse BECA Heritage Week events.
Big Library Read
Join the OverDrive Global Book Club. From 7 to 21 October enjoy unlimited simultaneous access to the selected eBooks - The Door in the Hedge by Robin McKinley and In the Shadow of Blackbirds by Cat Winters.
Labour Day
Our libraries are closed on Monday 26 October 2015 for Labour Day.
Events in October
What happened in October
Our timeline of historic Christchurch events.
Get the latest news from Christchurch City Libraries
About our website themes
Each month we connect you with library resources and local events. We also dig out some of the gems in our collection that reflect the vibrant and diverse aspects of life in Christchurch.
Next month's theme
In November our theme is Playing / Tākaro.