You may have thought that Record Store Day was just another novelty 'national day', a bit like 'National Wear Your Pyjamas to Work Day' (mind you, at this time in particular, this day speaks to me), or 'National Grilled Cheese Sandwich Day' (which was just on 12 April, just saying- another day that speaks to me), but what if I told you that record store day is in fact THE music lovers day? It is a day of exclusive music releases, with 2020 promising tracks from legends like David Bowie, U2, Eminem and many more.
Just as importantly, Record Store Day is a chance for us to celebrate a beloved yet often forgotten institution, the independent record store.
While this day has been moved from its traditional 18 April slot to 20 June this year, (due to Covid-19 concerns), we can still begin to mark this day from home. Sure the doors may be physically closed to Christchurch's record stores, but you can still check out what stores are planning, view shops and their stories, and even attend a virtual album launch, all from the Record Store Day website.
Here are some great record stores in Christchurch, we can look forward visiting in the future (please let us know of any we've missed by commenting below):
Ride on Super Sound
A music and movie store, complete with fun merchandise. 
Penny Lane Records
A comprehensive CD store with a good range of second hand and new vinyl records for sale.
AV Club
A fun vintage store on New Regent Street, with records for sale.
Maybe you just want to nerd out over some old record store photos? I feel you, hence my dive into the Christchurch City Libraries photo archives: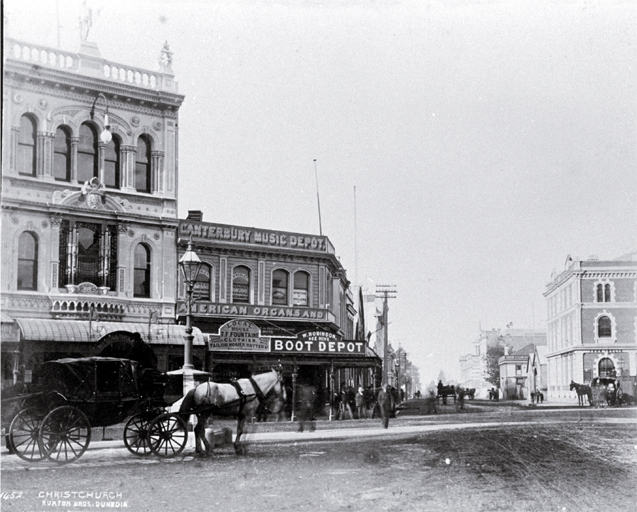 Realistically though, you are probably asking, "why I should I bother with record stores, when I can easily download music onto my phone?"
I could give you the same old (but perfectly true and relevant I might add) answers, like: "there are so many hidden gems you can only find in physical stores" - "the sound quality on your phone is so inferior compared to a record/CD"- "who doesn't want to collect record covers?","do you not have a soul?" (okay, so maybe that last one is teetering on the edge of aggression somewhat, so will leave that be), but really, the best answer I can think of is actually to do with record store workers themselves.
I have overheard so many amazing conversations in record stores over the years, from passionate declarations of love for Guns n' Roses, to advice on the optimum speaker system (the client having dismantled theirs in frustration), through to excited recommendations for music similar to Queen. Record stores really are the ultimate shrine to music, and their staff are your go-to for any music inquiry, however vague or (scarily) impassioned.
Record stores aren't just the place for the the cool kids to talk great bands either. They are as much a place for the nerd (I speak from personal experience here). The staff are a bit like your confessional - they listen to your tastes with no judgement or derision, and help you along on your music discovering journey. 
I remember asking a dedicated, head-bopping-as-listended-to-heavy-metal-on-his-exploding-headphones sort of record store assistant, in a rather hushed voice, if he knew "where the Michael Bublé albums are". Not only did he masterfully disguise his inward despair, he also recommended me more artists - more unexplored avenues of Bublé-esque goodness - all the while, taking care to make me feel like a respectable music connoisseur. The result was a rather expensive 'went-in-for-one-CD-but-came-out-with-10' kind of shop I grant you, but it was worth it.
So to all of those heavy rock speciaists who managed a kindly word when I came in for the easy-listening-for-the-over-sixties-CDs, and to all those workers who managed to track down those obscure albums I couldn't live without, I say thank you, and I will see you on 20 June 2020.