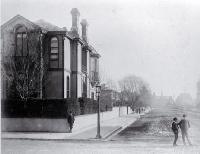 20 October 1948
"Pleasure Garden" art controversy begins when a Frances Hodgkins painting (done in about 1933) is exhibited at "the Group" show. This fierce debate on art style was joined by people throughout New Zealand. It raged for 3 years until the City Council accepted the painting as a gift on September 3, 1951.
22 October 1863
First Agricultural and Pastoral Association show in showgrounds (which is now Sydenham Park). An "unofficial" show had been held in October, 1862.
22 October 1985
"Elizabeth" the one tonne sea elephant dies of a viral infection on Sumner Beach. She had lived for 5 years on the City's beaches, estuary and rivers and was often found crawling up suburban streets. She has recently been immortalised in Elizabeth, Queen of the Seas by Lynne Cox.
23 October 1874
Canterbury Club building (designed by Frederick Strouts) inaugurated.
24 October 1870
Disastrous fire (New Zealand's most extensive to that date) destroys the centre of Lyttelton.
25 October 1986
"Qin Shihuang" (Chinese Buried Army) exhibition opens at the McDougall Art Gallery. 71,145 people visited the exhibition over a seven week period.
26 October 1980
Christchurch City Council gives land at Cuthberts Green to the trustees of new Ngā Hau E Whā National Marae.
26 October 1982
Old library re-opens as Library Chambers (architect Don Donnithorne).
More October events in the Chronology.