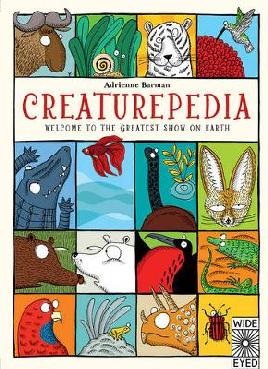 You know sometimes when you see a book and instantly fall in love? I had one of those moments recently when I laid my eyes on Creaturepedia by Adrienne Barman. I first saw this book on one of my favourite book websites, Love Reading 4 Kids and the cover really caught my eye. When I finally got my hands on a copy of the book from my library I fell in love.
Creaturepedia is a visually stunning book about creatures from all over the world. The book's by-line is 'Welcome to the Greatest Show on Earth,' and it's not wrong. Adrienne Barman introduces us to creatures great and small, huge and miniscule. Adrienne has split the book up into different sections, with names like 'The Champion Breath-Holders,' 'The Masters of Camoflage,' and 'The Show-Offs.'
The beauty of this book though is that it is perfect for dipping in and out of. You could pick any page at random and it would make you go 'Wow!' Curious children could flick to 'The Lilliputians' and discover that the Bee Hummingbird is the world's smallest bird at 5.7cm long or that the Dwarf Gecko is the world's smallest reptile at 1.6cm long.
The text in the book is sparse, letting the reader focus on the gorgeous illustrations that portray these creatures. Children will discover creatures that they never knew existed and will want to find out more about them. Adrienne's illustrations are vibrant, quirky and fun. Each of the creatures has its own unique personality.
Before you even open the book you can tell you're holding a work of art in your hands. The publisher of Creaturepedia, Wide Eyed Editions, clearly knows what makes a great book. The love that went into producing this book is evident, from the hardcover to the binding and the vibrant colours to the high-quality paper.
Get your hands on a copy of Creaturepedia by Adrienne Barman and fall in love with this stunning book!