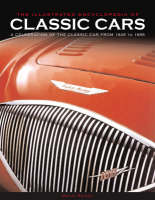 Owning and restoring classic cars is a popular Kiwi hobby. Christchurch City Libraries has a wealth of information to help you complete any project on your classic car.
Manuals and magazines
Although many classic cars were on the road long before the appearance of today's comprehensive workshop manuals for individual models, all is not lost! There are multi-volume works which include specific servicing information for both British and American vehicles, plus a number of general titles covering topics such as spray painting and upholstery renovation.
Magazines can be a great source of information which is both current and easy to read. Our libraries have a great selection of titles such as Thoroughbred & Classic Cars. You can also search our eResources for magazine articles and detailed information from a range of sources — it's an international hobby so there will be lots of material. Try Ebsco,Gale and ProQuest for starters.You will need your library card and password/PIN.
Car Clubs
Joining one of the many car clubs based in Christchurch is a good way to learn more about your classic car. Clubs often have technical information and other useful help such as access to parts and an active support network. Our community information directory CINCH has the contact details for many antique and classic car clubs.
Classic car resources
Our online resources
Our Internet gateway links
Cars & Motoring websites, including:
Browse the resources in our libraries: