The annual Festival of Flowers in Christchurch is a celebration of gardens, plants and everything floral. This page links to information on the Festival and gardening resources.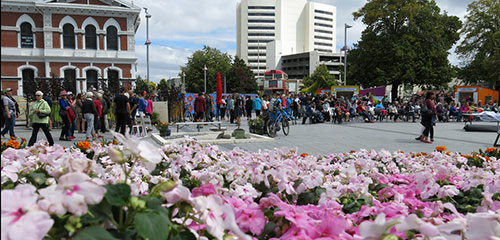 2015
The Festival will not be held in 2015, however it will return in 2016.
2014
The Silver Jubilee of the Festival of Flowers ran from 8 February to 2 March, 2014. The Festival was staged and installed in Cathedral Square. Events included concerts, workshops and displays such as Floral Bungalows, an opening event birthday celebration and a Chinese Cultural Day.
Festival history
Organised by the Christchurch Garden City Trust, the festival began in 1989 and includes displays, music, art, food, garden tours, and many free workshops and activities.
Prior to the 2011 earthquakes which severely damaged the ChristChurch Cathedral, one of the highlights of the festival was the traditional floral carpet and decorations in the Cathedral. Now the River of Flowers ceremony commemorates the 22 February 2011 earthquake.
Festival photos
Browse our photographs taken at the Festival of Flowers
Gardening resources
Browse our catalogue