This page connects you with Christchurch golf history, tournaments, online and library resources as well as courses to play and clubs to join in Canterbury.
Christchurch hosts the NZ Women's Open in January / February.
Christchurch golf history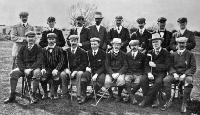 Golf has been played in Christchurch since the early 1900s. According to the NZ Golf Association's timeline, the sport grew quickly in the South Island ahead of the first New Zealand Open in 1907. Christchurch Golf Club, in Shirley, had an Easter Tournament in 1908. As the attire in this photograph shows, golfing was a formal affair. See also a photo of the first match at the Rawhiti Domain in 1952.
Online resources
Search the catalogue
Browse our Internet Gateway