Puari was the name of an early Waitaha settlement.
It stretched from the banks of Ōtākaro (Avon River) at Victoria Square out to Bealey Avenue in the years between 1000 and 1500. The loop in the river that encompassed the site was an important mahinga kai.
Little is known about this settlement or its occupants. However many taonga (treasured possessions) have been found in this region.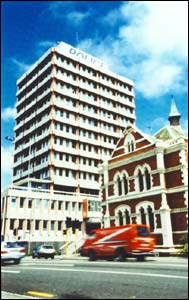 At its height the pā would have been home to about 800 Waitaha people.
The burial place or urupā for the Puari Pā was situated where the old Public Library and police station stood at the intersection of Cambridge Terrace and Hereford Street. Both buildings were demolished following the 2011 earthquakes.
As late as 1853, it has been recorded that the remains of ancestors could be seen laid side by side in rows barely covered with sand. Isolated burial places, urupā, have been found in all parts of Christchurch, even in the heart of Cathedral Square.
It is important that we be aware of these places and acknowledge their spiritual and historical significance.
Later during the Ngāi Tahu period a large variety of food was gathered in the Puari pā area including tuna (eels), inaka (whitebait), kokopū (native trout), koukoupara (cockabullies), pārera (grey ducks) and pūtakitaki (paradise shelducks).
Unlike Waitaha before them, Ngāi Tahu did not make their homes in the area but rather travelled there from other settlements in order to gather kai.
Mill Island, near the corner of Hereford Street and Oxford Terrace, was a well-known place for gathering inaka (whitebait).
Nearby Market Square (today known as Victoria Square), became an important market and meeting place for Ngāi Tahu from all over the region.
Sources
W.A. Taylor, Lore and History of the South Island Māori, Bascands, Christchurch: NZ, 1952