Whether you're making an entry for a wearable arts competition, a costume for a party or you're going to be the next Annah Stretton we have useful resources in our libraries and online.
In our collections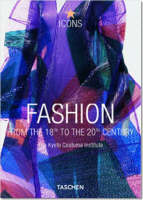 Browsing the shelves
Useful sources fall into several different sections in the Dewey System so when you're browsing you may want to check all of these areas.
Costume as social history: 391 - Subject: Costume History. This is the main area to look in for books about period costume, however if you are after patterns you should also look under theatre costume. Also don't forget general art history books of the period as these will give you a broader picture of the styles.
Sewing & dressmaking: 646.478 - Subject: Dressmaking. This section is where you will find books for Halloween and party costumes plus books about how to sew and tailoring.
Craft & technology topics: Wearable arts and period costume reproduction may feature unusual materials such as metal, wood, plastics etc or specialist techniques such as weaving, dyeing, embroidery, jewellery techniques and even electronics. Resources covering these topics will be found in the 600s (technology) and 730s - 740s (art and craft). Searching the catalogue will be a more effective way of finding resources on these topics.
Fashion as art: 746.92 - Subject: Fashion Design. This section is good for 20th century designers. Art history books can also be useful for pictures of people wearing clothing in different periods and regions.
Theatrical costume: 792.026 - Subject: Costume design. Theatrical costume books tend to focus on historical and/or cultural costume but are more likely to include patterns and construction ideas than those in the social history section.
History & Travel: 900s - History & travel books of individual countries/regions can be useful for pictures of how people dress.
Searching the Catalogue
Searching the catalogue has the advantage in that you can see what we have across all our libraries plus items that are currently on loan which you can place on hold.
Sample subject headings:
Don't forget that keyword searches of the catalogue can be very helpful if you can't find a suitable subject heading.
Online Resources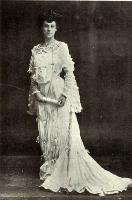 Our images collection includes photos of people in period clothing such as this one. Not all photographs held are online.
To locate a specific photograph from our full collection search the library catalogue. Type in a keyword or subject headings as above and and then limit the search by material type to "photograph" by scrolling down under "all materials" until you reach "photograph".
Databases
Our collection of online magazines and reference 'books' also include useful resources such as…
includes the following titles: The Cambridge Guide to Theatre, The Thames & Hudson Dictionary of Design Since 1900, The Thames & Hudson Dictionary of Fashion and Fashion Designers.
eResources Discovery Search (eDS)
Thousands of magazines and news sources, mostly full text: articles about clothing and dress to get you started.
Fashion, Costume, and Culture: Clothing, Headwear, Body Decorations, and Footwear through the Ages
Provides a broad overview of costume traditions of diverse cultures from prehistoric times to the present day. Examines more than 430 items of human decoration and adornment, how and why items were created, the people who made them, and their uses. From The Gale Virtual Reference Library.
Accessed through Oxford Art Online links to thousands of art images including items of clothing and accessories.
Wearable art
Web sites
Looking for a course?
Try searching CINCH, our directory of Christchurch & Canterbury community organisations and courses.
Fashion Technology and Design at CPIT (full time courses - check the CPIT web site for Summer School, Weekend College and other short courses)