Prices of antiquities, antiques, collectables, retro, vintage and 20th century design. An Australian product with New Zealand content.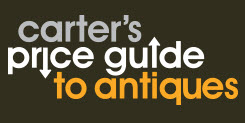 Key Features
Carter's Price Guide to Antiques presents items from 1500 BC to the present day, with a price range of $5 to over one million dollars! The online price guide is regularly updated to ensure its relevancy. You can:
Search by category: from advertising to tribal;
Browse the full index in alphabetical order: Aalto, Alvar (furniture) to Zsolnay (ceramics);
Find what you are after by entering a "keyword" in the search box;
Search by dealers such as Dunbar Sloane Ltd (NZ) and Sotheby's Australia to see a list of their antiques and collectables included on this site.
Carter's contains a wide range of New Zealand content including prices for Māori artefacts, Air New Zealand and New Zealand Railways collectables, New Zealand furniture and material by New Zealand artists such as Gary Nash: glass, Barry Brickell: ceramics and Juliet Peter: ceramics.
Use at a library or enter your library card & password/PIN
More information
Carter's Publications have been publishing price guides for 28 years. Their last printed price guides were produced in 2010 and from that year the online version was produced with 10 times as many items as the print version. All antiques and collectables have a photographed image and the price guide is based on actual selling prices at New Zealand or Australian auctions. Remember that prices of antiques and collectables can vary considerably depending on a multitude of factors. Carter's display the guide price as a range, for which the actual auction sale price (hammer + buyers premium) is the mid point of the range displayed.