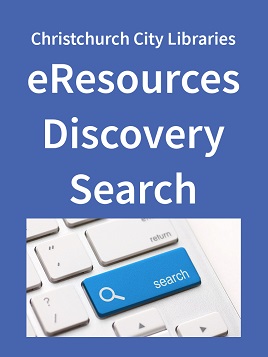 eResources Discovery Search (eDS) provides you with access to most of Christchurch City Libraries' eResource collection, articles, eBooks, journals, photographs and more, through a single simultaneous search at a single access point.
Key features
eDS is designed to allow you easy access to most of our eResources collection including those eResources you may not even be aware of. To make sure this process is as easy as possible remember these search tips:
Target your results more precisely by clicking the Search Options link to reveal available search modes, limiters, and expanders;
The Available in Library Full Text Collection limiter (set by default) restricts results to those items whose full text is available online in our libraries;
On entering search terms the auto-complete will appear with popular search terms as well as publications found in our library's holdings, choose from this selection or click the Search button;
Research Starter may appear at the top of the search results list. This include links to relevant articles, images, videos, and audio clips curated from quality sources like Encyclopedia Britannica.
If you are looking to refine your search from the Result List, you can apply limiters under Limit To or use the available facets (such as Source Type, Subject, and Geography) all found in the left column;
The Detailed Record includes an article's citation information and links to full text, when available. You can print, email, save, cite or export a single result using the tools in the right column of the Detailed Record. It also allows you to create a permalink which will create an accessible link back to your article;
If you search eDS using a mobile device you will be taken to a mobile website. This allows you, search and retrieve and log on for a full experience.
Use at a library or enter your library card & password/PIN
More Information
eDS has guest access which allows non-authenticated users to begin searching without logging in. You can search all resources but if you want to access the full text you will have to log on using your library card and password/PIN
Once you have logged on you have full eDS access and can store your research by creating your own account using your email address and your password. With your own EBSCO account you can:
Save preferences;
Organise your research with folders;
Share your folders with others and view theirs;
Save and retrieve your search history;
Create email alerts and/or RSS feeds.