Christchurch City Libraries has a wide variety of collections including archives and various special reference and research collections and a growing collection of online resources.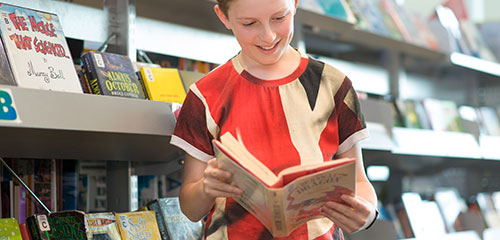 He Kohinga Pūranga / Archives
Located on Tuakiri | Identity, Level 2 of Tūranga the Archives are a rich collection of primary sources on the city's history.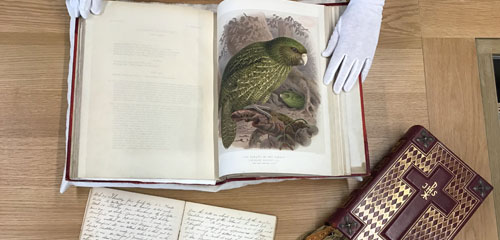 The collection includes unpublished records of local and community organisations and clubs, churches, businesses and individuals. The material relates to Christchurch, the Canterbury region and the Chatham Islands from 1850 onwards and includes:
Ephemera – posters, handbills, programmes, catalogues.
Manuscripts – diaries, letters, scripts, church registers.
Small oral history collection.
Christchurch City Libraries ArchivesSpace
Search ArchivesSpace to find listings of archives held by Christchurch City Libraries.
Find out more: He Kohinga Pūranga / Archives. 
Bestseller collection
The Bestseller Collection consists of only the biggest sellers of the moment: books that are heavily advertised and are available in local bookstores. They are mostly fiction titles but some non-fiction bestsellers are here as well. These items must be issued and paid for before they are viewed or used in the library or are taken home. Bestseller items are issued for 7 days and have Bestseller charges.
Holds cannot be placed on items in the Bestseller Collection. Holds are able to be placed on a copy of the same title held in the general collection. The Bestseller Collection works independently of the general collection and the choice of using it is yours.
Search our catalogue for items in the Bestseller Collection.
DVDs
The DVD collection includes classic and contemporary films, comedy, musicals, art house movies and television shows. Children's DVDs are also available at all of our libraries. Non-fiction DVDs such as documentary films and series, and learning resources are shelved alongside the books on those topics, or sometimes in a separate sequence (Tūranga).
Dyslexia
Dyslexia is a term used to describe a range of persistent difficulties with aspects of reading, writing, and spelling. Around 10% of the population has dyslexia, and common symptoms are that words and letters appear to "move around on the page" or blur and blend into each other. Dyslexia-friendly books may use a special typeface and off-white pages to help dyslexic readers.
Find Dyslexia-friendly books in our collection.
eBooks, eAudiobooks, and eMagazines
eBooks, eAudiobooks, and eMagazines are available to library members through our eResources. Please note not all eBooks are downloadable. OverDrive and Wheelers offer downloadable eBooks. Other vendors supply books that you can read online, these include O'Reilly, Credo Reference, Tumblebooks, Gale Virtual Reference Library and Oxford Reference.
Electoral rolls
Parliamentary (or general) electoral rolls
All our libraries (except the Mobile Library) hold one copy of each of the Canterbury-Christchurch general electoral rolls, plus Te Tai Tonga (Māori) electoral roll.
Tuakiri | Identity, Level 2, Tūranga holds a complete set of all the current New Zealand electoral rolls.
Queries regarding enrolment on the Electoral Roll or general elections should be referred to the Electoral Commission: www.vote.nz or 0800 36 76 56. 
Local body electoral rolls
Service centres and libraries (except the Mobile Library) hold one copy of each of the local body rolls for the 16 Christchurch City Council wards for customer viewing.  A preliminary set is published three months prior to the local body elections.
Historical electoral rolls
For Information about historical electoral rolls, check our Family History - Electoral Rolls page.
English language skills
This collection includes Adult Literacy and English language skills resources. It is a special collection of books and other resources to help people develop their reading and writing skills. It is also used by newcomers learning English. These resources are found in most of our larger libraries and online.
Fiction
All our libraries hold extensive fiction collections for adults, children and young adults. Fiction is also held in other formats such as audiobooks, eBooks and large print and in languages other than English.
Fiction books are shelved in alphabetical order by author's surname.
In some libraries the fiction is shelved alphabetically in categories e.g. mystery, adventure.
Games
Find out about games and gaming consoles available in some of our libraries. See the websites and games for fun and learning that we link to on the kids' computers at your local library. Children's computers are available at all of our branches except Diamond Harbour, Little River, Mobile Library, and Parklands.
Government publications
A comprehensive range of Central and Local Government publications including Parliamentary papers, legislation, statistics, official reports, annual plans and annual reports, district schemes and other planning documents.
Some relevant material from this collection will be available at Tūranga. Some early, fragile items in the collection are only available to view by appointment at our Archives collection.
Graphic Novels
Graphic novels and comics can be found at all of our libraries in a range of topics and genres, from manga and superhero titles to biographies and memoirs in comic form. We collect graphic novels by New Zealand and international authors and have a variety of material suitable for adults and younger readers.
Find Graphic novels in our collection
Jigsaws
Jigsaws are available for exchange at the following libraries: Akaroa, Aranui, Diamond Harbour Fendalton, Te Hāpua: Halswell Centre, Linwood, Little River, Matuku Takotako: Sumner Centre, New Brighton, Ōrauwhata: Bishopdale Library and Community Centre, Papanui, Parklands, Redwood, Shirley, South and Spreydon.
Hornby Library jigsaws are held at the Community Care shop in the same building. The Community Care shop is open Monday to Friday, 9:30am – 3:30pm.
Large print
A range of fiction and non-fiction titles is available in large print. You can restrict your searches of our catalogue to only show results for Large Print by using the format section in our Advanced Search.
A list of new Large Print titles is released each month as part of our New Titles.
Magazines
Our magazine collection covers the spectrum from Aero Modeller to Vogue. All libraries have borrowing collections, whilst most of the reference magazines will be held at Tūranga. Here are some helpful tips on how to search for our print magazines
A wide range of magazine content including New Zealand magazines can also be accessed online through our eResources.
Māori
Material on Māori subjects or which present a Māori perspective on a subject, or by authors who identify as Māori and Māori language publications. 
A significant collection will be located in Tūranga. This includes material published by, or relating to, Ngāi Tahu as tangata whenua including Ngāi Tahu Claim information.
All our libraries have Ngā Pounamu Māori collections including material in te reo Māori.
Memory bags
Memory bags can be beneficial for people with dementia. The memory bags contain a selection of objects chosen to help stimulate the senses and promote reminiscing and discussion.
Find out more about memory bags.
Non-fiction
All our libraries hold non-fiction collections for adults, young adult, and children. All libraries have a wide range of biographies. Non-fiction is also held in other formats such as audiobooks, ebooks and large print.
Non-fiction books are shelved in numerical order using the Dewey Decimal Classification system. The number given to each book is shown on its spine.
Pasifika
Material which provides access to Pacific knowledge, heritage and identity, with a particular focus on helping Pacific Islanders retain their language and culture. This is a separate collection found only at Aranui Library and on Tuakiri | Identity, Level 2, Tūranga. Some of the same material is found within the general collections held in all our libraries.
Browse the Pasifika collection.
Standards
Print copies of the current New Zealand Standards (NZS), and joint Australian/New Zealand Standards (AS/NZS) are able to be borrowed on Tūhuratanga | Discovery, Level 3, Tūranga or requested from any of our community libraries.
More information about our Standards Collection.
Telephone directories
New Zealand telephone directories are held at all libraries, except the Mobile Library.
Young adults
Collections of fiction, non-fiction, graphic novels and magazines for young adults, are held at all libraries. See Rangatahi - Teens.
Zines
The Zine Collection is a not for loan collection of New Zealand zines and small press comics on Auahatanga | Creativity, Level 4, Tūranga. From the initial 200 zines in 2021, the collection has grown to more than 1000, and includes two small pop-up collections in community libraries. There are seven genre headings for this collection: Art, Comic, Literary, Personal, Political, Music and Miscellaneous. 
In addition, there is small curated permanent collection of mainly Christchurch and Canterbury zines on Tuakiri | Identity, Level 2, Tūranga. The focus of this collection is to preserve examples of the genre for the future.