This page links to information and photographs in our collections about the places and landmarks of Christchurch.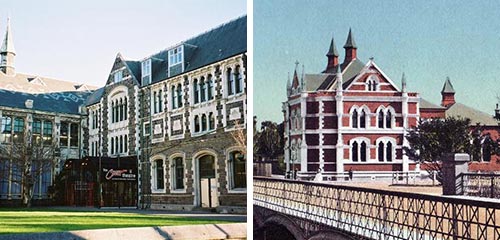 Architectural heritage and local history
Memorials, clocks, fountains and landmarks
The Christchurch Documentary Project
Find out about The Christchurch Documentary Project:
Haunted by History
Haunted by History, created by Nataliya Oryshchuk and David Allen, NO Productions Theatre. This is a collection of videos exploring the history of the past of the Sign of the Takahē, Riccarton House, Mclean's Mansion, Cave Rock, and Mona Vale.
It was created as part of Virtually Ōtautahi.
Researching places
From our Digital Collection
A selection of items digitised from our archives and reference collections.
Several publications relating to Akaroa.
Handwritten diary of farm activities and expenses on a Killinchy, Canterbury farm. The diary was started by Mathew O'Brien and continued by John O'Brien after his father's death on 5 October 1897.
A collection of historical maps mostly of Christchurch and Canterbury.
A selection of architectural plans and drawings from the collection of the Strategy and Planning Group Heritage Archives, Christchurch City Council. The plans and drawings are of a range of buildings in Christchurch, dating from 1909 to 1968.
A pamphlet advertising the auction of the Spur properties designed by Samuel Hurst Seager. Includes floor plans, views of the cottage interiors, and general descriptions of the cottages. 1914
This booklet contains articles by Blanche Baughan, Leonard Cockayne and Robert Speight on various aspects of the Summit Road, with an introduction by Harry Ell, and a brief mention of the work of the Summit Road Association. The booklet contains illustrations, panoramic profiles of the Port Hills, and a relief map.
A history of Sumner, written by J. F. Menzies, Sumner Town Clerk, in 1941, to commemorate the 50th anniversary of Sumner as a borough.