Biographical information about more than one million people. Coverage ranges from Kylie Minogue and George Clooney to Socrates and Boudicca.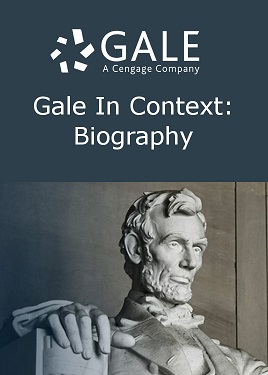 Key features
Gale In Context: Biography describes the lives of the world's important and intriguing figures from history, around the world, and across all subject areas. It also contains information on news makers from the present time. Resources include:
600,000 plus biographies;
Nearly 200 Gale biographical reference titles;
50,000 new or updated biographies added annually;
Integrated reference material, periodical information and multimedia content.
Use at a library or enter your library card & password/PIN
More information
Gale In Context: Biography gives users the ability to search on occupations, nationalities, birthplaces and death places right from the home page — not just names. Coverage extends from Attila the Hun to Kim Kardashian. Fact boxes which provide snapshot summaries of key information are also provided to help users if you are not searching for too much detail.
Integration with Google and Microsoft
Gale Cengage has integrated this eResource with Google and Microsoft. At the top of each page there is an option to sign in. If you have an account for Google you can save Gale content as Google docs into Google Drive or Google Classroom accounts. If you have a Microsoft account you can store, sync and share downloaded Gale content to your OneDrive account and easily transfer downloaded OneDrive content for use in other Microsoft tools like OneNote and Classroom.
If you are searching for more biographies, try Oxford Dictionary of National Biography.