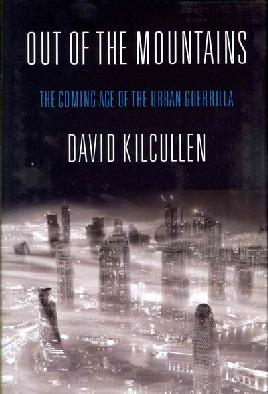 Out Of The Mountains focuses on how and why the future of guerrilla warfare, terrorism and insurgency will be carried out in dense urban environments, as opposed to the familiar practice of carrying out rebellions in jungle, mountainous or rural settings.
While this might all sound a bit Rambo and militaristic, David Kilcullen's observations aren't just borne out of his extensive knowledge and experience within conflict zones, but also his research into demography and economics which reveal global "mega-trends".
These mega-trends are grand global changes such as rapid population growth, population density, accelerated urbanization, increasing interconnectedness, and littoralization (the tendancy for societies to cluster on coastlines). All of which exacerbate the challenges already faced by humanity ...
Kilcullen argues that, despite wars BETWEEN countries declining, conflict WITHIN countries is on the increase. He says mega-trends intensify pre-existing hostilities, which involve ethno-sectarian loyalties and identities, as well as the countless and ever-fermenting ideological and religious struggles.
In addition, he argues these mega-trend environments become even more complex and volatile when you add other forces into the mix - such as climate change.
These issues are often outside of government control, especially when many countries are already unstable and corrupt, with large populations trying to scratch a living on low incomes (despite the burgeoning middle classes in emerging economies like the BRICS group).
So, the world's mega-city future will probably feature a series of simmering geographic quagmires which render pre-existing national security and foreign policy doctrines quite useless. Some of what governments have learned over the decades will possibly be disregarded as they have to adapt to these new trends.
Being a New Zealander I don't usually endorse anything which comes out of Australia, except maybe Home and Away or James Boag's beer (Definitely not Tony Abbot's Speedo clad aquatic heroics). But Australian David Kilcullen is a mastermind on counter-insurgency and military strategy. He was senior counter-insurgency adviser to General David Petraeus in Iraq, and the NATO security force in Afghanistan. That - along with his writing style - makes this book a very engaging read which illuminates complex subjects and makes them more understandable for people like me. His forecasting of the future is convincing.
This book makes a great companion to George Friedman's Flashpoints, which also looks at the future of conflict and resource related issues.