Relentless and unstoppable digital forces have changed the flows of information in recent years. And there's no going back. There's a multiplicity of media sources out are all vying for our precious time: pushing hard news and hard bodies at us through every possible platform.
Arguably, no other sector of the economy has been rattled by such changes as that profession and bastion and truth - journalism!
To discuss this, an extensive panel was formed at the WORD Christchurch Writers and Readers Festival. Cate Brett, Simon Wilson, Morgan Godfrey, Duncan Greive and Paula Penfold got together on stage and thrashed it all out. The message seemed to be that such circumstances are a mixed blessing.
Some say "the news has been democratized", giving everyone with a digital device "a voice". But then, "everyone" includes your friendly neighbourhood skinhead. Others claim we're all being exploited by commercial entities, who distract us from real issues by pitching to our carnal desires. Little New Zealand media sources can't compete with behemoth businesses, resourced to catch a bigger share of public attention.
So, how do wholesome Kiwi journalists and news sources secure capital to compete for space within the saturated market, which is rather dominated by cashed up multinationals? Annoyingly, so many solutions seem to present a paradox - because the most critical and fundamental principle underpinning "The News" is OBJECTIVITY. Therefore, relying on government funding becomes a problem if your scrutinizing the behaviour of government: "biting the hand that feeds you"!
Getting help from unions or trusts was pitched as means to secure funding. But then, that's also a problem when such entities also have political and ideological positions which journos feel compelled to honour!
And then there is advertising, which also means pandering to cut throat corporatism ... These are some of the most important questions of right now. Because a robust and free press is right up there with free and fair elections and the right to vote!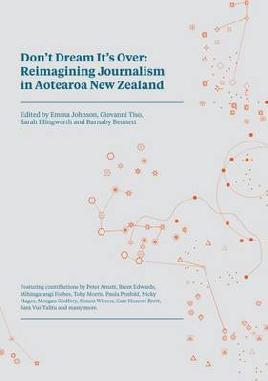 Fortunately, an awesome new book has been released, which seeks to address the flux with innovative angles - Don't Dream It's Over: Reimagining Journalism in Aotearoa New Zealand. Check it out.
More WORD Christchurch