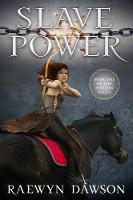 Kate R (a Year 11 student at Riccarton High School) read the new book Slave Power by Christchurch author Raewyn Dawson. Here's what she thought:
Slave Power by Raewyn Dawson is an exhilarating, exciting and breathtaking book about a young girl named Melo who fights to save the riders of the Wild Horse Tribe from her old rival and fellow rider Mithrida from attacking and destroying their tribe.
Suddenly Melo is kidnapped by the City Slave Traders she finds herself on the Holy Island as a slave. While Melo and the other slaves are being trained as fighting soldiers, they make friends with each other and try figure out a plan to escape being slaves when they get back to the mainland.
On the Holy Island, Sofia, a young priestess in training, wonders why strangers have landed suddenly on their small island. As she tries to find out , she becomes friends with Melo and the other Slaves and tries to help them connect with the Black Rock and overpower their kidnappers.
Back in the Wild Horse Tribe, Mithrida has destroyed the plains and has forced the Wild Horse Tribe and their fellow Eagle Tribe to join forces and try to take Mithrida down forever.
In the end, the slaves make it back safely to the mainland but have sadly lost Lady Tutea (leader of the Eagle Tribe who joined them in battle), and finally found Mithrida and sentenced her to execution.
Slave Power is an amazing book with good descriptions but there are some quite sad and descriptive parts in this book that may be disturbing for children to read. The age this should be recomended for is between 14 and above.