This page connects you with arts and crafts activities for kids.
Discover thousands of projects you can do. There are activities for all levels from beginner to expert. All projects have clear instructions, photographs and illustrations.
Christchurch classes and courses
Want to learn how to do arts and crafts? Groups are a great way to find out how. Search CINCH, our Community Information Christchurch database, for arts, crafts and hobbies groups for children.
KidsFest takes place in the winter school holidays in July and it has some cool arts and crafts sessions.
Holiday programmes often have arts and crafts sessions — try the Christchurch Learning Centres' Holiday programmes.
We also have pages on Māori kites and weaving.
Books at the library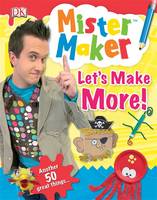 Do you want to make something fun? There are lots of books at Christchurch City Libraries to get you drawing, painting, cartooning, puppet making, knitting, sewing and more.
Websites
There are lots of websites that can help you with arts and crafts. Here are some we think you might like.