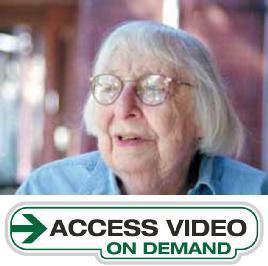 On the weekend of 4 and 5 May, Christchurch hosted its first Jane's Walk - an annual festival of free, citizen-led walking conversations inspired by urbanist Jane Jacobs. The inaugural Christchurch festival was co-organised and presented by the Urban Design Forum, the Transportation Group, Women in Urbanism Ōtautahi and Te Pūtahi – Christchurch centre for architecture and city-making.
Jane's Walk is a series of free neighbourhood walking tours that help put people in touch with where they live and with each other. During the walks, people tell stories about their communities, explore their cities, and connect with neighbours.
American urbanist Jane Jacobs championed the voices of everyday people in neighbourhood planning and city-making. The documentary Citizen Jane: Battle for the City is available on Kanopy. We have a video Urban Wisdom in which she shares her insights. Her famous book The Death and Life of Great American Cities is in our collection if you want to read more.
Since its inception in Toronto in 2007, Jane's Walk has happened in hundreds of cities around the world. The official global festival weekend is always the first weekend in May.
Here's how the inaugural Jane's Walk Christchurch went:
Chester Street East & Latimer Square
Saturday 4 May // 10.30am -12pm
Simone Pearson of the Chester Community group and Nick Lovett of the Transportation group led a tour of one of the inner city's most historic and active neighbourhoods. They covered some of the early planning decisions that have left lasting impressions on the neighbourhood.
#janeswalk #christchurch inaugural walk 🙂 Thanks Simone & Nick! https://t.co/E50Bd4FhJj pic.twitter.com/7B0DwGRSr1

— Meg Campbell-Back (@mcb4photos) May 4, 2019
Land Under Te Ahu Patiki Mt Herbert
Saturday 4 May // 2.30-4pm
This walk was in Charteris Bay; a semi-rural, harbourside suburb of Christchurch, home of the Optimist and Orton Bradley Park. The Park has a rich and unique history and the land continues to inspire ecologically driven initiatives. Dale and Laura who work with the land led the walk, and walkers were invited to share their thoughts on land use within the city limits. The walk included farmland and the arboretum.
Edgeware/Edge Where?
Sunday 5 May // 11am-12.30pm
I went on this one. There was a keen and friendly bunch of urban explorers of all ages -  kids, dogs, bikes. One of the walkers has lived in Edgeware for 89 years!
Local resident Peggy Kelly led us through Edgeware, starting at Packe Street Park and Community Garden and ending up at Abberley Park. I hadn't been to the Packe Street Park before, and was impressed that it had a book exchange on site, as well as olives, feijoas, and crab apples (we got to taste crab apple jelly made from the fruit - delish).
On our walk we chatted, and stopped occasionally to see points of interest - kowhai trees, new developments, the way the creek integrates into people's homes and the streetscape.  Along the way we checked out food spots, the Edgeware Paperback Centre, and even another little free library on Edgeware Road.
Our walk ended up in the lush autumn finery of Abberley Park, where some of the younger set enjoyed a bit of a park frolic.
Jane's Walk was brilliant. I learned lots more about Edgeware, and relished how everyone had some memories or information to add to the mix.
Going the Way of the Moa
Sunday 5 May // 1-2.30pm
Urban Designer Boyd Barber led this walk through and around the charming small sidestreets in the environs of Moa Reserve, the genesis of which we learned from local longtime residents. Originally the land for Moa Reserve (a small park at the bottom of Moa Place, off Madras St) was acquired for a planned northern motorway that was to come through town. That never eventuated but the land remained unused so a neighbour suggested the empty sections be turned into a pocket park. In later years it was extended so it now serves as a picturesque shortcut between Ely and Melrose Streets.
We wandered through the reserve from Melrose Street to Ely Street and on the way heard from Boyd about Jane Jacobs' principles of good neighbourhood planning which included ideas like multi-use spaces, and streets and homes that are visible to each other. My fellow Jane's Walkers bemoaned the increase in high fences around properties that may have increased privacy, but have also reduced opportunities to be social, to say hi to people in their front gardens as you wander past, and for people who walk and neighbourhood children to benefit from the safety of having "eyes on the street".
We continued around the dog-leg corner of Ely Street stopping to look at the oldest homes in the street. At one end an early workers cottage, at the other a two-storey gabled affair and beside it some post-quake rebuilds/refurbishments that had retained this style but with modern fittings. We also heard about the "giant flower pots" in place along the side of the street which were put in due to a towing company HQ being sited at the corner on Salisbury Street which would always be in a hurry to get to an accident and would use the otherwise quiet side streets as a shortcut. These planted concrete tubs narrow the street considerably and help to slow down traffic.
From there we continued across Salisbury Street and up Barbadoes to Brick Wharf Cairn, taking in the autumnal splendour of the Avon River on Cambridge Terrace and one of the two-storeyed homes their designed by the late Peter Beaven.
This was a great opportunity for local residents to chat and share what they knew about their own neighbourhood and I'll be keen as mustard for more walking opportunities next year.
Find our more about Jane's Walk
Read more