International Herald Tribune Historical Archive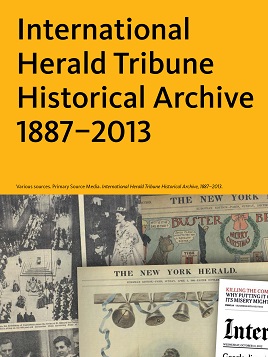 The International Herald Tribune Historical Archive 1887-2013 features the complete archive of the International Herald Tribune from its origins as the European Edition of The New York Herald and later the European Edition of the New York Herald Tribune. The archive ends with the last issue of the International Herald Tribune before its relaunch as the International New York Times.
The International Herald Tribune was best known for its objective reporting and clear style, and for taking an unrivalled international approach to its coverage and perspective.
Highlights:
The arrival of the automobile, including articles on the appropriateness of women drivers, new road etiquette, and adverts for early travel accessories
The space race, from the first satellites successfully launched into orbit to the moon landings, charting the battle between the USA and Russia
The milestones of aviation, from the voyages of Charles Lindbergh and Amelia Earhart, to the first international balloon races and the development of modern tourism
Reaching the South Pole, covering the legendary expeditionary race between Captain Amundsen and Captain Scott
The Christchurch Earthquake, coverage of both the September 2010 and February 2011 earthquakes.
You can search this resource through Gale Primary Sources which allows you to simultaneously search several other historical newspapers at the same time including The Times Digital Archive.