On September 3, 1939 New Zealand declared war on Germany following Germany's invasion of Poland.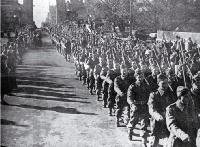 New Zealand was one of the first countries in the world to follow Britain and declare war on Germany. This followed Germany's invasion of Poland and Britain's declaration of war following the expiry of the British government's ultimatum to Germany to withdraw from Poland (9.30pm New Zealand standard time, 11am British summer time).
At 11.30pm the acting Prime Minister, Peter Fraser, issued a statement confirming that New Zealand was at war. Following the death of Prime Minister Michael Savage in 1940 Peter Fraser went on to lead New Zealand through the rest of the war.
The war against Germany ended with their official surrender early in the afternoon of 7 May 1945, New Zealand time. The acting prime minister, Walter Nash, insisted that VE Day be delayed until May 9 following the official announcement of British Prime Minister Winston Churchill. Once the official celebrations got underway 25,000 people marched through Christchurch in a People's Victory March organised by the Trades Council.
The war against Japan continued until 15 August 1945 when news of the Japanese surrender arrived in New Zealand at 11am. Celebrations began immediately and continued for two days of public holiday.
Library Resources
A guide to information about the men and women who served in the New Zealand armed forces during World War 2.
Search our catalogue for items about New Zealand's involvement in this war.
View photographs from the second world war on the Discovery Wall.
Material from our archives including:
Notebook diary written by George Whitley, N.Z.E. (Corps of Royal New Zealand Engineers), who was posted to Norfolk Island during World War II. Diary begins in September 1942 and ends in April 1943.
A small magazine published during the voyage of the First Echelon, 2nd NZEF to Egypt, on board HMNZ Transport Z.6., M.S. Sobieski.
Published by National Executive of the Communist Party of New Zealand, [1943]
The Sumner Redcliffs Historical Society invites you to a self-guided walk of approximately five kilometres, passing places of interest to those who wish to imagine what the area looked like in the years from 1939 to 1945.
Other Resources
Good background from New Zealand History online.
The Returned Services Association is a voluntary welfare organisation for all New Zealand service personnel.