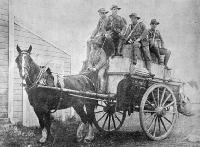 New Zealand Wars: 1860 - 1872
Images of war
New Zealand at War
Selected photographs from our collection. For more photographs search our catalogue:
Other collections
War Art Online collection
images from the National Collection of War Art at Archives New Zealand.
South African War: 1899 - 1902
World War 1: 1914 - 1918
WW100
The New Zealand Government has developed WW100, a programme to mark the First World War centenary from 2014 to 2018. Our WW100 page links to World War 1 content as well as events and activities in Christchurch and Canterbury.
World War 2: 1939 - 1945
Vietnam War