I am a little worried that the next generation will just come out of the womb with a phone attached to their hands. They may start crying less for mother's milk and more for  a "top up" for their latest digital device. They say if you can't beat them (literally) then join them and so this is where Busy Things comes in.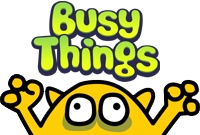 Busy Things is an electronic resource aimed at 3 to 7 year olds.  Hence it is bright, cute and clever and contains over 130 games and 40 plus mini games to help children:
Create music and art;
Play phonics games;
Learn letters and their sounds;
Draw letter shapes and create labels and captions;
Watch and listen to traditional tales;
Practice reading and spelling in the more advanced  literacy games.
The  content is easy to use and provides activities that emphasize creativity and fun while also accidently providing early learning. Children will be able to use this at home with their library card number and password / PIN or at any library computer. Best of all it is free and safe - a great activity for those very, very, very  long school holidays.