Colourful and quirky games and activities for 3 to 11 year olds. Designed to entertain and educate.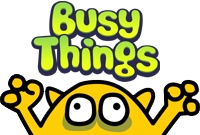 Key features
Busy Things includes hundreds of games and activities that vary according to the age of the child involved. These include:
For younger kids: English, Maths, Art and Music, Exploring the World and "Just for Fun";
For older kids: English, Science, Digital Tools, Design and Technology, Geography, History, Music and Religion.
This all sounds rather like hard work, but you learn as you play! You can:
Paint a dinosaur, snowflake or fireworks display;
Create a solar system;
Devise a poster for a lost pet;
Play number and shape games;
Make music;
Practise your mouse skills by saving a cow or tracing letters of the alphabet;
Invent a World War II poster;
Undertake a survey of eye colors and make a graph and so much more....
Use at a library or enter your library card & password/PIN
More information
These games are designed to entertain as well as educate with Busy Things winning a BETT (British Educational Training and Technology Show) award with its content. It aims to provide activities that give as much emphasis to nurturing creative development – as to providing the more formal requirements of early learning.
Minimum Requirements

Windows
P4 1.4Ghz or higher
Windows Vista/7/8
512 Mb RAM or higher
Internet explorer 8.0 or later versions, Firefox, Google Chrome
Mac
Intel core duo 1.83Ghz processor or higher
Mac OSX version 10.6 or higher
512 Mb RAM or higher
Firefox , Safari 5.0 or later versions
Other browsers may work with busythings.co.uk, but are unsupported.
iPad
iPad 2 or higher with iOS 6 or higher
Please ensure your iPad is running the latest version of iOS.
If you encounter any problems, please try powering your iPad down and then restarting it. You can also try going into the Settings App, selecting Safari on the left and selecting Clear History and Website Data.
Android
Android 4.1 or higher
Please ensure you use the latest version of Chrome only. From our testing this seems to work best.
If you encounter any problems, please try powering your tablet down and then restarting it. Also, in Chrome, click the ... button in the top right corner, select History and the select Clear Browsing Data. Then press Clear.
Please note this eResource may not work on your phone.
If you would like to access a collection of online animated books for children try TumbleBook Library.