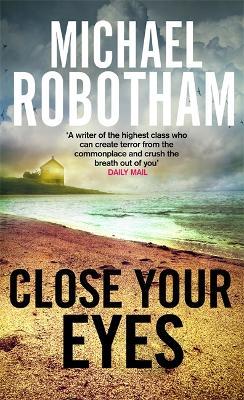 Christchurch crime fiction fans are in for a treat when Michael Robotham, one of the best crime writers working, visits on Wednesday 26 August. He's coming to Christchurch with his latest book, Close Your Eyes, but he's got an impressive back list.
His books Shatter and Lost won the Ned Kelly Award for Australia's Crime Novel of the Year - good old Australia - a Crime Novel Award named after a criminal.
Shatter and The Night Ferry were shortlisted for the Crime Writer's Ian Fleming Steel Dagger Award; Say You're Sorry and Life and Death made it to the shortlist for the Crime Writer's Golden Dagger Award. We'll have to wait until September to see if Life and Death wins.
I always like a crime writer who started as a journalist. Even better if they started as a cadet rather than doing a post-graduate degree in Journalism (not that there's anything wrong with that).
It's just that writers who have had to distill the facts of a story into a small space jostling with lots of other stories know how to grab your interest. And I fondly imagine cadets learning their craft by having their copy scrutinised by cynical hard-bitten reporters squinting through the smoke from the fag permanently attached to their lips. Probably an image that was way out of date when Michael Robotham was working on evening newspapers. If it was ever true.
Perhaps I'll ask him when he comes to Christchurch. I also have a question about going to school in Gungadai.
Event details
An evening with Michael Robotham
Wednesday 26 August 6pm to 7.30pm
South Library
Free event, complimentary tickets can be picked up from South Library or Paper Plus Northlands Mall. Books will be available for purchase courtesy of Paper Plus.
For more info or to reserve tickets please call Kathryn Hartley Ph: 03 941 6649 or email:kathryn.hartley@ccc.govt.nz
Michael Robotham: ghosting and crime Michael on Saturday Morning with Kim Hill, Radio New Zealand National, 15 August.
Hear Graham Beattie's review of Close your eyes on Nine to Noon, Radio New Zealand National, 12 August.
'He is, for my money, the greatest current Aus crime fiction writer.' Graham Beattie LOVES Close Your Eyes @michaelrobotham on @ninetonoon

— Hachette NZ (@HachetteNZ) August 11, 2015