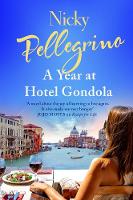 We are asking quick questions of writers and thinkers coming to the WORD Christchurch Festival 2018 (Wednesday 29 August to Sunday 2 September).
Nicky Pellegrino is the author of 10 best-selling novels. She juggles writing fiction with a career as a journalist, regularly contributing to magazines including the Listener and the New Zealand Woman's Weekly.
What are you looking forward to doing in Christchurch?
I'm hoping I'll find time for a walk in the Botanic Gardens. And to eat a lot of delicious things.
What do you think about libraries?
They were my lifeline when I was a kid and my best friends were books.
What would be your desert island book?
To The Bright Edge Of The World by Eowyn Ivey because it would remind me how it felt to be cold.
To the Bright Edge of the World

Share a surprising fact about yourself.
I can touch my nose with my tongue.
Nicky Pellegrino's sessions at WORD Christchurch Festival 2018:
High tea and Tales Thursday 30 August 2pm