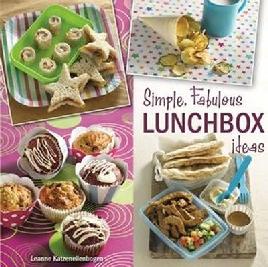 Getting the balance between what's healthy, nutritious and interesting in school (and work) lunchboxes can be difficult, but our libraries have some great resources to help you out.
Search our catalogue
Lunch ideas
Here are some tips from a local dietitian to help you make nutritious and interesting lunches:
Replace the traditional sandwich with different pita breads or tortilla wraps with the same kind of sandwich filling – cold chicken, tuna, beef, salad or vegetables;
A pasta salad is a tasty, healthy and nutritious option – include sun-dried tomatoes, pine nuts and some grated cheese;
Adding croutons or nuts to a salad will add different textures and flavours;
Leftover pizza is another good lunch option and it is tasty cold;
Pack some hummus in a plastic container. Cut a pita up into wedges for dipping along with some carrot sticks, celery sticks, broccoli, cauliflower, green pepper - whatever your child likes;
Replace chips with rice crackers or a mix of nuts and raisins, use roasted but unsalted for a healthier snack;
Include a reusable ice pack with the lunch to keep it fresh, or freeze a water bottle or juice pack and include in the lunch. By lunch time it will have thawed.
Healthy eating for kids
Community and Public Health, a division of the Canterbury District Health Board has a helpful range of information sheets on children's nutrition:
Recommended Internet Sites