As touted on the cover of Spontaneous, opens a new window, this is "A novel about growing up... and blowing up" - and it didn't disappoint. I love a good YA read and this one caught my attention from the outset as I pondered the outrageous thought of teenagers spontaneously blowing up in front of their classmates.
Initially I felt a bit like I was peeking into a world that wasn't my own. It was something akin to looking at my daughter's Facebook or Twitter account and reading things I either didn't know - or didn't want to know - about her life. So I take my hat off to Aaron Starmer, opens a new window for realistically getting inside a teenage girl's head. I might also add that at this point I am fervently hoping that my 15 going on 16 year old daughter's life bears little resemblance to Mara's. Hey! - I can live in my happy naïve little world - it's fun here!
Thankfully this feeling didn't last and I was pulled in by my need to know 'why'. Now I won't say that why kids were blowing up was answered to my satisfaction as the 'why' became more of a side story to the 'how we live with this and don't let it define us' one.
Spontaneous, opens a new window takes the reader on a quite personal journey with Mara Carlyle as her classmates start blowing up randomly and her life changes as they all become the centre of much speculation and trepidation from the community and country at large. But what happens when this anomaly doesn't differentiate between friend or enemy? And how do you stay sane when you don't know who is going to be next or if you will have to suffer the horror of witnessing yet another classmate spontaneously exploding? This is the challenge that Mara and her graduating class have to work through while trying to hang on to even the smallest amount of normality to keep them grounded.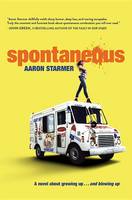 Now despite the obvious serious aspect of Spontaneous, opens a new window, it is written in quite a light-hearted way. My favourite bit of levity would have to be the 'hang in there, we're with you' pep talk from the President of the United States - I'm still chuckling just thinking about it, so watch out for this one!
I did end up quite enjoying this book but I also think that any teenager will find it infinitely more relateable than I did. There's plenty of swearing, raging hormones and a distinct lack of need for adult supervision. A teenager's dream come true, really.
Spontaneous
by Aaron Starmer
Published by HarperCollins New Zealand
ISBN: 9781460753149