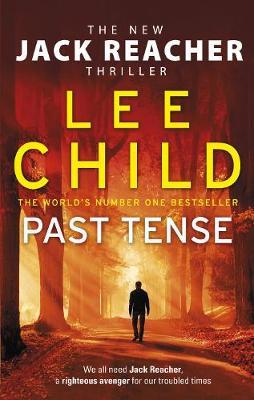 Lee Child has just released his 23rd Jack Reacher book - Past Tense - and I can hardly wait to get my hands on it. The only thing that could possibly be better, is attending 'An Evening with Lee Child' - but you also won't be surprised to hear that this WORD Christchurch event is already sold out. With a drawcard like bestselling author Lee Child having a chat with local author Paul Cleave - it's no wonder! There was much seat bouncing and skiting to anyone who would listen when I heard that I would be going to see the creator of the Jack Reacher series in the flesh. It is almost like being in the same room as the great man himself - and who wouldn't want to be up close and personal with someone like Jack?
Lee Child is one of an elite group of authors of whose work I have read in its entirety - and eagerly anticipate his next offering. This doesn't sound like too big of a deal, I agree; but I am actually one of those librarians who don't read many books. Blame the alluring pull of technology, being time-poor and feeling like it is taking my work home with me. But for another tale about Jack, I will always make an exception.
With 23 books under his belt and more than 40 short story anthologies, Lee Child has been giving his imagination and typing skills a serious work out over the last 21 years. His books have been bestsellers and he's sold well over 100 million of them all over the world. From a librarian's point of view I can honestly say that they are rarely back in the library long enough to actually get shelved.
Now I can see how this is a wee bit like teasing you all given that the event is actually sold out - but don't despair. You can put your name on the waitlist according to the WORD Christchurch website - so you might be in with a chance! I on the other hand will be there with bells on and will let you know what you missed from the comfort of your lounge room - so watch this space!