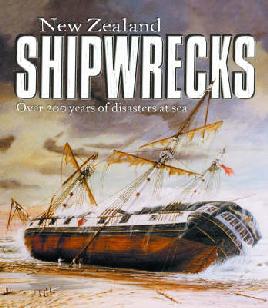 On the evening of the 12 February 1909, the steamer Penguin was heading to Wellington from Picton, when it encountered bad weather. It hit rocks off Cape Terawhiti and was shipwrecked. 75 people died.
What happened?
The steamer Penguin left Picton on February 12, 1909 on its regular ferry run to Wellington. It was a clear night, with good conditions for sailing. The 102 people on board were excited by the sight of Pelorus Jack, the dolphin, accompanying the steamer for a mile or two.
The Penguin reached Cook Strait about 8pm, just as the weather was beginning to get worse. Halfway across the strait, a strong southerly wind blew up and visibility became poor. By 10pm the captain had not sighted the Pencarrow Light at the opening of Wellington Harbour, and gave orders to turn back out to sea until the weather cleared.
However, the Penguin was closer to land than the captain realised. As the ship turned, it struck rocks off Cape Terawhiti, tearing a hole in the hull of the ship. The raging seas pulled the Penguin clear of the rocks, and water began to pour in through the hole.
Lifeboats and rafts launched
When it quickly became obvious that the pumps would not be able to keep the ship afloat, the crew began to load the lifeboats with women and children. Only two lifeboats were successfully launched, but these were swamped and most on board drowned. One lifeboat was tipped over by a wave and a woman and young boy were trapped underneath but able to breathe in an air pocket until they were washed ashore.
Some wooden rafts were used with more success, and after drifting for some hours a few survivors managed to make their way to the shore.
As the Penguin sank, the seawater flooded into the engine room. The result of the cold water on the red-hot boilers was a huge explosion, tearing the ship apart, and sending the wreckage to the bottom of the sea.
One group of survivors walked to a nearby farm to raise the alarm, and rescue parties arrived to find wreckage and bodies strewn along the coast. The only survivors were the woman who had been trapped under the lifeboat, and 29 men.
How many died?
75 (one source gives 72) people died, including 17 women and 14 children.
Other events and outcomes
A court of inquiry found that a strong flood tide combined with strong currents was one reason for the disaster, but also that navigational errors had been made by the captain, who survived the wreck.
Sources
Disasters