Picture Post Historical Archive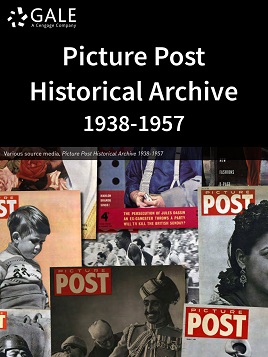 The Picture Post Historical Archive comprises the complete archive of the Picture Post from its first issue in 1938 to its last in 1957—all digitized from originals in full colour. Picture Post (1938-1957) was read by an estimated 80 per cent of the British population at its peak.
Picture Post provides a fascinating snapshot of British life from the 1930s to the 1950s, with thousands of photos of ordinary people doing ordinary things -- from boys rolling a tyre, to a view of a postwar bedsit, to young women on a rollercoaster -- all caught in a single moment in time. Picture post also covers: 
Literature: social context is provided for 20th century works especially wartime and postwar literature. Contains serialisations of contemporary novels e.g. Evelyn Waugh's Decline and Fall;
Politics: The paper was liberal and staunchly anti-fascist, revealing much about prevailing political attitudes of the time;
Media/journalism: Its pioneering use of photojournalism provides numerous examples of how to convey serious and light-hearted stories through a visual medium;
Art & photography: Many famous photographers worked for the publication including Bill Brandt and Felix Man.
Browse or search more than 38,000 pages and 95,000 articles, gaining remarkable insight into a crucial period of 20th century history - from the stormy years leading up to World War II to the first decade of the Cold War.
You can search this eResource through Gale Primary Sources which allows you to simultaneously search many other historical magazines and newspapers at the same time including the Illustrated London News Historical Archive.