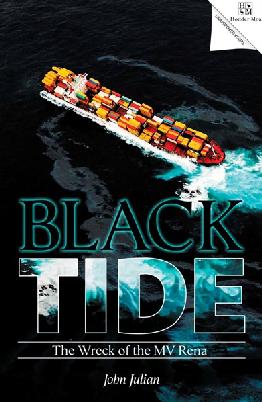 On 5 October 2011, at 2:20am, the container ship Rena ran aground on the Astrolabe Reef, near Tauranga. Some of the containers on the Rena carried hazardous goods. The ship also carried heavy fuel oil and marine diesel.
Over the next few days oil and debris started to wash ashore on Tauranga beaches, polluting the environment. Many sea birds were affected and died. Some containers sank or washed ashore. In early January 2012, the ship broke in half and at the start of April 2012 the stern sank.
What happened?
The Rena was built in 1990 and was originally named the ZIM America. It was a container ship that could carry 3351 containers.
At the time of the shipwreck, the Rena was sailing from Napier to Tauranga with 1386 containers on board. It carried 1,700 tonnes of heavy fuel oil and 200 tonnes of marine diesel. A small number of its containers were also carrying hazardous goods.
On the night of the sinking, 5 October 2011, the watchkeeper was navigating the ship instead of an officer. The ship didn't have the right charts and its position wasn't marked properly on all the charts. The crew were trying to get to Tauranga quickly, so they took a short cut which led them onto the reef.
Luckily all 25 crew members on board were uninjured, but the hull of the ship was damaged.
On 9 October, oil was seen in the water around the ship and on 10 October, oil and debris started to wash up on Tauranga beaches. The beaches were closed on 13 October and people were warned not to try to clean up the oil.
Attempts were made to remove all the shipping containers from the ship, but high seas and the lean of the ship made this difficult. Some of the containers were transferred to other ships, some fell into the sea and sank, and some washed ashore or floated into shipping lanes. Some containers are still on the ship.
How many died?
No people died, but around 2,500 birds died.
Other events and outcomes
In mid-October 2011, Diamantis Manos, managing director of Costamare Shipping, the company which owned the Rena, apologised to New Zealanders and said the company would contribute money towards the clean up.
Much of the oil on the ship was in the end successfully pumped off onto barges, but at least 350 tonnes leaked into the sea.
Around 2,500 sea birds died due to the pollution. Greenpeace estimates that in total 20,000 birds will be affected by the spill.
The captain and navigating officer of the Rena were both jailed for their part in the sinking. They were found guilty of operating a ship dangerously, polluting the environment and changing ship documents.
In early January 2012, the ship broke in half and, at the start of April 2012, the stern half sank.
Find out more about the Rena shipwreck
More information and sources
Disasters