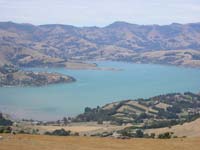 Kateraki / Ngāiterangi
On the beachfront at Ikoraki stood the Māori settlement of Kateraki (or Ngāiterangi). A long standing settlement but probably not a defensible pā, there are still remnants of life at this site in the way of middens.
Its accessibility to fossickers has seen much of the archaeological material (chisels, fish-hooks, adze heads and fragments of greenstone) removed. This site dates back to Moa hunter and Ngāti Māmoe times.
Ngāi Tahu chiefs Moki and Te Wera
An important event relating to this place goes back to the time of two Ngāi Tahu chiefs Moki and Te Wera who visited the bay.
Later, Te Wera gave his wife Irakehu to the Whakamoa chief Manaia at Kateraki. Manaia was the grand-son of Manawa and Te Apai. Irakehu was the grand-daughter of Makō and Te Rōpūake.
Ngāti Irakehu, the hapū name for the people of Wairewa, takes this name from their chieftainess Irakehu.
Sources