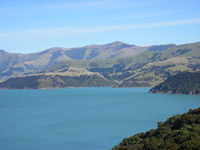 At the southern edge of the French Farm bay Te Rautahi, sits a point called Iringa Paraoa o Te Rakitaurewa which means the "waving of the whalebone club of Rakitaurewa".
Following the battle at Parakākāriki where Moki defeated Ngāti Māmoe and destroyed the pā, the Ngāi Tahu chiefs set off to lay claim to the lands of the Banks Peninsula area.
Te Ake
One such chief was called Te Ake (ancestor of Wiremu Puhirere) who was on his way to Wainui. Finding the way difficult because of the terrain he turned back to a flat point between Duvachelle and Robinsons Bay.
Te Ake took his tokotoko and stuck it into the ground and exclaimed, All of the land ahead is mine.
Ōtokotoko — "place of the walking stick or staff"
To ensure that his claim would be honoured he asked Te Rangi Taurewa to row his canoe across to the point on the south side of French Farm and when he got there to wave his whalebone club so that Te Ake could see him.
This point has since been known as Iringa Paraoa o Te Rangi Taurewa and the point where Te Ake placed his stick is known today as Ōtokotoko meaning the "place of the walking stick or staff".
Sources