The Independent Digital Archive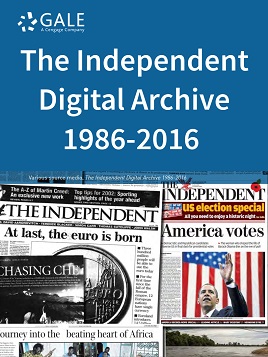 The Independent is a major British daily national newspaper, launched in 1986 as an antidote to its often overtly political rivals. Its evolution over a quarter of a century has been considerable, but the publication has also retained a unique position in British journalism. Featuring journalists and columnists from across the political spectrum, the paper is generally regarded as centrist, presenting fresh, alternative views on the free market, social issues, and culture.
This digital archive extends from the Independent's launch in 1986 until 2016 and includes the popular Independent on Sunday from 1990 onwards. The reason this archive is so important is because it provides:
Political balance - as a broadly centrist publication, it provides an essential alternative voice to the centre-right and right wing views of The Times and the Daily Mail. It has no affiliations to any major political party or corporation;
Coverage of controversial key stands the newspaper took such as campaigns against the 2003 Iraq war, criticism of US and UK foreign and domestic policy related to the War on Terror and highlighting the dangers of climate change;
Innovative and radical design in its layout and presentation of the news which will be of interest to those who follow media, art and graphic design;
Contributions from world renown journalists such as Robert Fisk (seven times international journalist of the year) and Andrew Marr and authors such as Bill Bryson and Helen Fielding;
A key resource for the study of late 20th century and early 21st century history, media, culture, and society especially the Middle East and Africa.
You can search this resource through Gale Primary Sources which allows you to simultaneously search several other historical newspapers at the same time including The Times Digital Archive.