Daily Mail Historical Archive, 1896-2004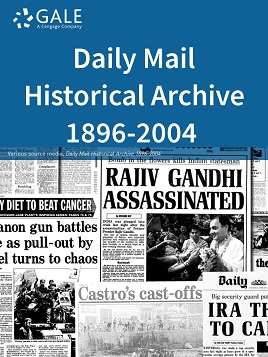 The historical archive of the Daily Mail includes advertisements, news stories and images that capture 20th century culture and society. From its first issue in 1896 to the end of 2004, and provides insight it gives into the interests of the mass-market, 'everyman' reader.
Described by the New Yorker as the newspaper that rules Britain, the Daily Mail has been at the heart of British journalism since 1896. Areas of special interest include their coverage of:
World War I: pressure from the newspaper contributed to the change in government in 1916;
Women and Gender: the paper introduced the first women's magazine and hired the first female war correspondent;
Home and lifestyles: the annual Ideal Home Exhibition in 1908 was founded by the Daily Mail. Extensive coverage influenced how the British public lived from home decorating to fashion;
Crime: large amount of sensational articles on crime that would not be reported elsewhere were covered by the paper;
Popular politics: attracting a conservative and middle class readership it provides insight into the political issues of the Conservative party in Britain – immigration, health and care for the elderly.
Its founder Lord Northcliffe identified a gap in the market for a paper that delivered the three things that are always news – health, sex and money. By offering short engaging stories with pictures, the news for the first time reached into the homes of millions, many of whom had never bought a newspaper before. It was the first newspaper to sell a million copies in a day and helped coin the term tabloid – a chemist's term for a small effervescent pill. Currently it boasts a circulation of over 2 million, and its website is the most visited news site in the world.
The archive also includes access to the Daily Mail: Atlantic Edition which was published on board the transatlantic liners that sailed between New York and Southampton between 1923 and 1931. These editions published different content to the regular London version of the paper. Issues of the Daily Mail Atlantic Edition are extremely rare. They provide insight into the lives of the wealthy on the eve of the Great Depression.
You can also search this resource through Gale Primary Sources which allows you to simultaneously search several other historical newspapers at the same time including British Library Newspapers.