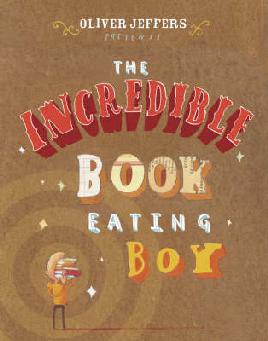 Working in libraries allows you to have some pretty interesting work stories. My top one for this week was a small boy with a problem that involved library books and bedtime snacks.
A mother came to me holding the hand of a very worried looking two year old. She whispered to me : "We need a stern face please". So, I tried to look stern. I can do perplexed, amused and just plain crazy, but stern is one look I'm not good at. She talked him through an apology to me and then explained.
Little Timmy had decided that eating books was a good thing and his parents just could not figure out why. It suddenly dawned on them that Timmy had spent the week before reading The Incredible Book Eating Boy by Oliver Jeffers, opens a new window. He certainly took to heart the initial joy of eating books, but as his mother and I decided, his two year old mind had failed to digest the moral at the end, which suggest reading is the best way to absorb the contents of a book.
Which begs the question, could and do children get led astray by other books and their dark conspiratorial messages?
Think of the havoc if your young one took Lets Make Mud, opens a new window to heart on the shag pile, or Big Brothers Don't Take Naps, opens a new window when particularly cranky, or even We're Going on a Bear Hunt, opens a new window? Then there is Hop on Pop , opens a new window - Pop may not be pleased. Or perhaps Don't Let the Pigeon Drive the Bus, opens a new window  would be a problem for a child such as my youngest once was. You know the kind, the ones who insist on doing the direct opposite of anything you may suggest.
But you just know for sure, they would not take to heart Shhh! , opens a new windowby Sally Grindley.
Got some dangerous books you can think of?