At the Bach is a beautiful little bedtime story by the wonderful Joy Cowley. The deceptively simple poetry is brought to life by Hilary Jean Tapper's watercolour and pencil drawings. Missbeecrafty asks Hilary a few questions about her creative process.
Missbeecrafty: There's something deliciously nostalgic and evocative about the illustrations for At the Bach! It all looks so familiar—the bunk beds, the yellow checked blanket, the rainbow ball, and even the nubbly green couch.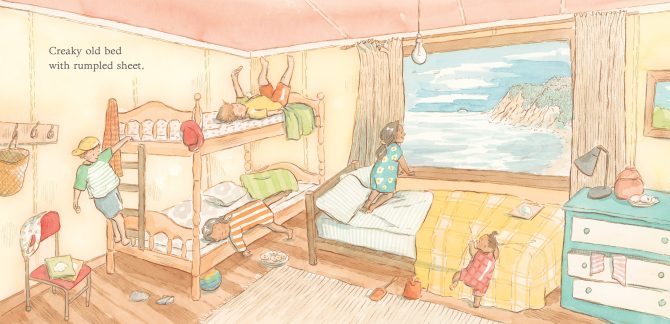 Can you tell me about the inspiration behind your drawings?
Hilary Jean Tapper: I grew up in a little house on the Hibiscus Coast of New Zealand, a street across from the beach. My childhood was cosy, sweet and ever-accented by sand and the smell of the ocean. When I was 9 years old my family moved to Australia, and my memories of New Zealand became something of a far-away land and tinted with nostalgia. I embraced this book as an opportunity to try to savour some of those memories, and celebrate the unique, simple beauty that New Zealand life offers – particularly our 'bach' culture.
MBC: Joy Cowley is such a well-known author. How did it feel to illustrate one of her books?
HJT: I'm incredibly grateful for the opportunity. Her words contain so much imagery and feeling, it was an honour and privilege to draw a world in response to them.
While there is a lot going on in your illustrations, the text is very spare. Can you tell me more about the planning involved in illustrating a book like this?
My friend and I went to stay at a local bach by the ocean, and I used this place as the foundation for the bach you see in the book. I took a lot of photos and did a variety of sketches to try to grasp the key elements. Most importantly, this particular bach had a beautiful feeling to it – you could feel the love in the place – and this inspired the heart of the illustrations. From this initial research, the book followed a usual process – storyboards, roughs, colour roughs, and the final art.
What is your favourite part of the book-creation process?
I was going to say: Definitely the storyboard part! And then I would add: And definitely the roughs process! And then I would also add: Most certainly the creation of the final art! Every stage is incredibly satisfying, hard work, and deeply absorbing. I love the feeling of losing my sense of time, and just living inside the work. Perhaps my favourite, favourite part of creating a book is the creation of the characters. I don't really "create" them, more so, they reveal themselves – my pencil moves like a sculpting tool, and out forms these little personalities. I think it is precisely this that has had me find myself illustrating for picture books – I have always been obsessed by drawing little people. They have become my life!
What is a typical work day like for you?
I am tempted to describe my "typical" dream day…the ones I occasionally muster, but mostly fantasise about. Reality looks more like: Soak up as much of bed as I can while the sun rises through my backyard. Consume my usual muesli and tea. And then the rest of the day is a blur of emails, teaching, meetings. On my dedicated illustration days I usually end up procrastinating for 3/4s of the day (the house gets beautifully clean, my emails all get answered, bills get paid, laundry washed, plants re-potted, distant friends get a reply message, you know)… then suddenly: WHAM. I sit, and somehow, the work unfolds. It's usually 10pm by the time I look up from my table, I haven't eaten dinner, and my body feels broken because I didn't realise I was sitting extremely awkwardly without moving for the entire time. …It's a strange life.
I saw on your website that you are also a doll maker. Your dolls are just beautiful! Have you ever thought of illustrating a book using dolls?
Thank you! I have definitely thought of picture books with dolls in it (my partner and I actually have a book idea in the works). I haven't made dolls for some years now – dollmaking came rather unexpectedly into my life 9 years ago, and led to all sorts of wonderful opportunities. They were incredibly therapeutic to make, and resulted in me teaching 'Courage Doll' workshops for a couple years. Somewhat angelic like, dollmaking helped me step further towards my dreams of illustrating, and then, one day, my need and obsession with creating the dolls just fell away. It felt like their purpose had been fulfilled. It was a peaceful letting go, but a very treasured part of my past.
Did you have any special dolls or toys as a child that you'd like to tell me about?
YES. Ted. My beloved childhood companion who I couldn't live without, even as a teenager. As a kid, I believed Ted to be real. I would hide in my room and wait to see if he would move, or try to catch him moving when he wouldn't expect it.
Are there any particular artists who inspire you?
There are many artists that inspire me – but my main inspiration is Shaun Tan. I heard him speak at my local library when I was in high school. His book, The Red Tree, had brought light to the dark in my life at that time. I remember sitting right in front of him, hearing him describe his work and creative process, and feeling this deep clarity within me: I want to make picture books. 
That must have been a truly wonderful experience!
Did you have a favourite book or author when you were a child?
I loved studying the lines of E. H. Shepard from Winnie the Pooh. I would trace over these and try to capture the delicate magic of so few lines, and such small forms. I found these pictures mesmerising. Any books with enchanting images stole my attention.
You've lived in lots of interesting places and done a lot of interesting things! If you weren't illustrating books right now, what would you be doing, and where would you be?
I'd be illustrating the corners of napkins, receipts, and my notebooks!
At the Bach, written by Joy Cowley, illustrated by Hilary Jean Tapper $29.99 RRP, Gecko Press
More