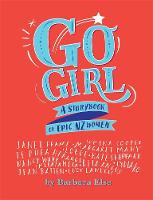 We are asking quick questions of writers and thinkers coming to the WORD Christchurch Festival 2018 (Wednesday 29 August to Sunday 2 September).
Barbara Else MNZM is an award-winning author who also works as a manuscript assessor. She has held university fellowships and was awarded the Margaret Mahy Medal for services to children's literature. Her latest book is Go Girl – A Storybook of Epic NZ Women.
What are you looking forward to doing in Christchurch?
I'm longing to see the Art Gallery
What do you think about libraries?
Libraries are treasure houses, and school librarians in particular are guardian angels.
What would be your desert island book?
My desert island book – can I just take a library?
Share a surprising fact about yourself.
A surprising fact about me? When I was little I used to borrow a particular library book again and again even though I had my own copy at home. (The Five Chinese Brothers)
Barbara Else's sessions at WORD Christchurch Festival 2018
Margaret Mahy Lecture - Barbara Else: Go Girl Saturday 1 September 10am